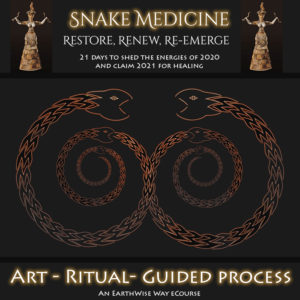 Snake Medicine
Course is Full - Registration Closed
Snake Medicine
 21 days to claim 2021 for healing
 Shed the energies of 2020
 Restore, Renew, Re-emerge
Embrace transformation in the new year.
Shed the energies of 2020 and begin anew in 2021
Tap into the healing, mystery, magic and transformation of Snake Medicine in 2021
Create a fresh start
Find  new ways of being
Put on a new skin
Become more adaptable,  more flexible, spiritually sleeker, better informed
Harmonize and balance Earth, Body + Soul.
Explore  the ancient, venerable, healing,  feminine earth energy held withing the snake
Engage with myth and the mythic imagination
Work with the healing power of the caduceus, and the ouroboros.
You'll receive....
Gentle guided meditations + inner journeys
Powerful guided  personal ritual
 Written Journaling opportunities
Exploration of historical, mythic + esoteric aspects of Snake Medicine
 Intuitive art making using The JourneyCircles™ Process
Intuitive/process art making video series
A customized JourneyCircles™ Kit is included!
Private classroom, (no need for Facebook)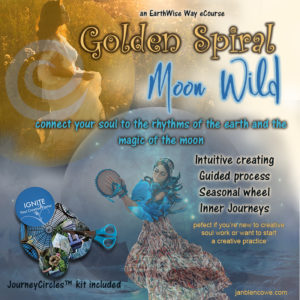 Golden Spiral, Moon Wild
Coming Soon! Registration opens February 7th, 2021
Golden Spiral Moon Wild will...
connect your soul to the rhythms of the earth
and the magic of the moon
A four month self guided course to help you...
establish an intuitive creative practice
follow the Celtic Wheel of the Year and the cycle of the full moon
Travel from...
Spring Equinox
though April, the month of The Fool
to Beltane
and the Summer Sosltice
This is the perfect place to start if you are new to...
intuitive art making
the JourneyCircles™ process
creative depth work
the Celtic Wheel of the Year
Moon Magic
If you already have an ongoing intuitive creative process and love journey work this is a wonderful way to ensure that...
you maintain your practice
create twice a month on beautiful JourneyCircles™ cards
keep youself tuned into the earth and the Moon
tap into how they are guiding you and enriching your soul's path
Sign up for my email newsletter below to receive information about Golden Spiral Moon Wild, which is scheduled to begin March 1st.