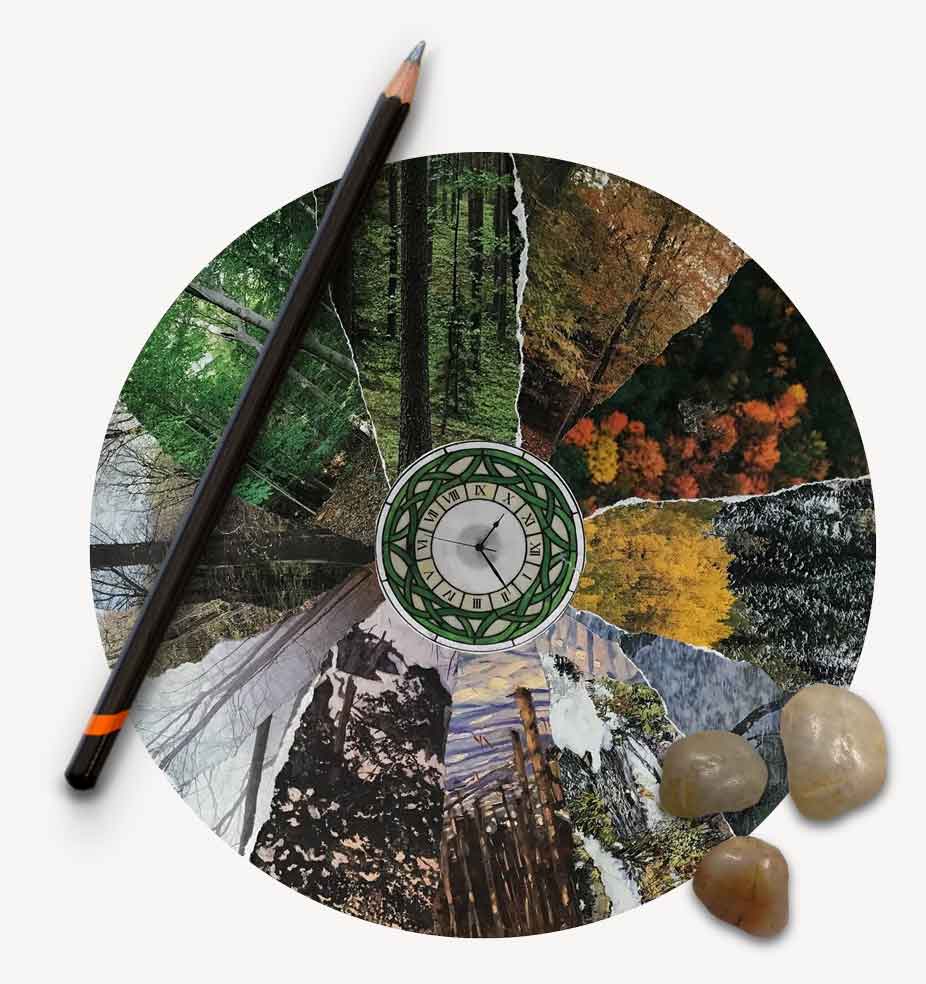 Do you feel isolated not knowing anyone else whose heart leaps at the thought of quiet solitude in nature or whose spirit lights up at the thought of creating art?
In The EarthWise Way you will find an inspiring, supportive, sacred circle of kindred spirits.      
The EarthWise Way is a guided, community designed to help you birth personal, spiritual, and creative growth using art as a transformative process and nature as your guide.
Monthly themes that revolve around earth wisdom, seasonal cycles, archetypes and myth, along with inspiring materials and creative art invitations will gently guide you in nurturing a sacred connection to the earth, celebrating the seasons, and attuning your inner and outer worlds to the rhythms and cycles of nature.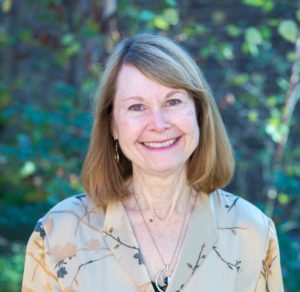 Mary C. EarthWise Way member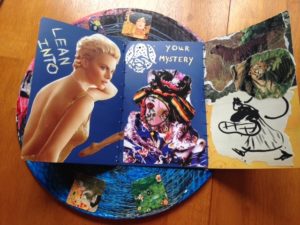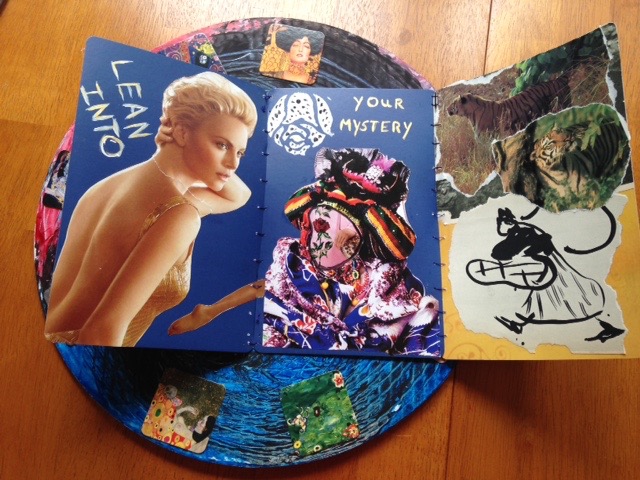 Art work created by Mary C. in The EarthWise Way
Here's what Mary experienced in The EarthWise Way...
I have gained volumes of learning, through mind and spirit, from this experience. For me, this was like engaging in a process of building intentions for a great life, not from a mental thought perspective, but from the perspective and activities of a creative mind. I had several major breakthroughs in self understanding as a result of The EarthWise Way. One of the most insightful "aha" moments for me was the clarity of how several forms of healing that I have initiated in my life all fit together to form a whole picture that makes perfect sense. If I had gained nothing else from the course, this was a big one!
~ Mary C.
If your inner world feels out of sync with the outer world and you long for a deeper spiritual connection to the earth, The EarthWise Way is perfect for you.
You will learn to use many techniques, approaches and tools to bring your inner life into balance and alignment with the rhythms and cycles of the earth.
The Wheel of the Year

The cycle of  the seasons

The waxing and waning of the moon

The dark and light halves of the year

Times for planting intentions

Incubating creative ideas

Tending and watering your soul

Pulling out weeds that cling and hold you back 
Does it seem impossible, in your busy life, to carve out time for creativity?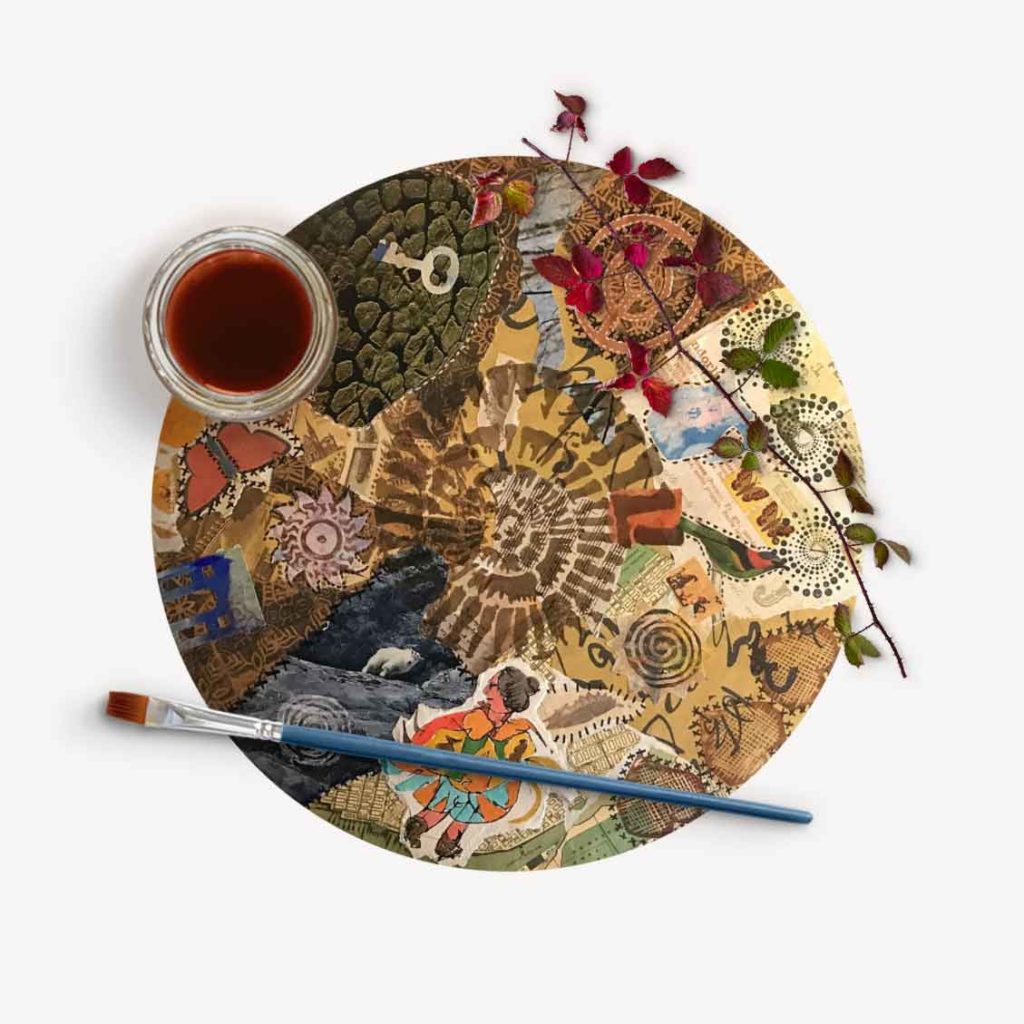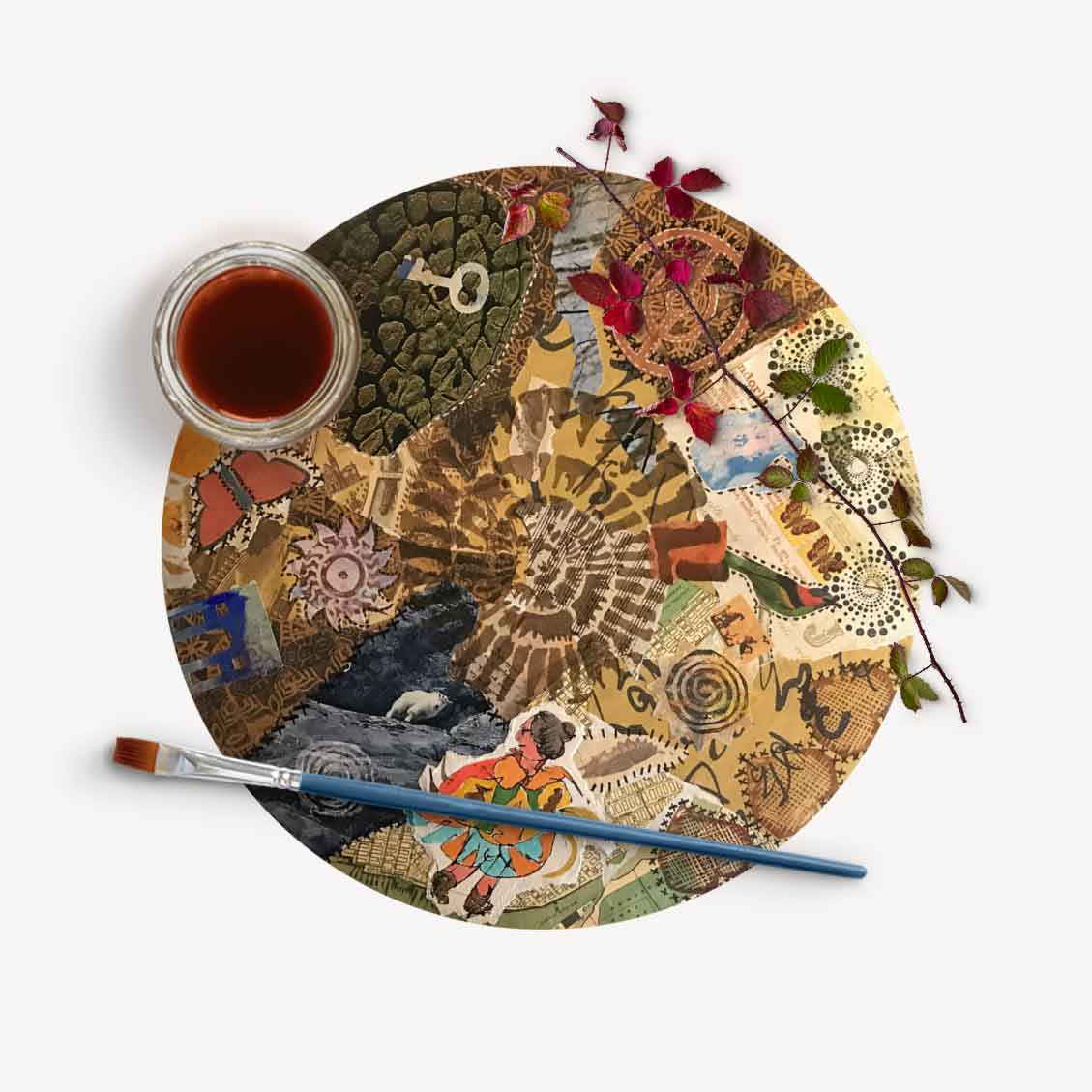 If you are unsure how to begin making art, and  your inner critic keeps you from embracing yourself as an artist I will show you how to overcome those struggles.
I have so many easy and wonderful art making techniques to share with you. It begins with the simplest process of all, gathering found images and using them for collage. This is powerful work which everyone can do.
But you'll learn much, much more about using art materials and techniques so you can create personal, symbolic art that forms a complete body of work expressed in your own unique visual language.
You will travel for a year with other women, and together by sharing the journey you will inspire one another as you live your year with intention through art and nature.

Read what women are saying about their experience in The EarthWise Way...
Jan fosters community among women pursuing a diversity of paths and living all manner of challenges, creating a lightness of encouragement and enjoyment of one another. She has been wonderfully insightful with me individually, not only within the discussion group and group calls, but in her role of Depth Coach for this rich studio (and life) process.
In the EarthWise Way, using image and paint and glue and symbol, I'm gradually moving toward my own outspoken and soul-deep language, one whose truths I cannot readily argue. I'm connecting to ancient myth and archetype through resonance rather than through study, living the stories as they emerge in my creatings. 
~ MaryEllen Rodda
Jan is a wise woman. She leads by example, sharing her art, her heart and her life. The EarthWise Way is an inspiring, supportive community, a safe, warm place to share our lives and how we are changing and growing. I am learning to attune my life to the natural cycles to create balance between my inner world and my outer life.  When we post our art and our thoughts, Jan responds with sensitivity, insight, wisdom, and encouragement. The EarthWise Way has given me the tools and the wisdom, clarity and confidence to better align my life with my soul. 
~SJ
What does The EarthWise Way encompass?
Curated Materials & Thematic Art Invitations
The EarthWise Way will include curated materials for inspiration and enrichment, along with thematic art invitations that you can personalize and create in your own unique way. There will be powerful conversations about our soul connection to nature throughout the seasons. You will explore deep questions to guide your own personal inner journey of healing and growth. Conversions will allow for cross pollination of ideas and imagery as we learn, heal and grow together. The EarthWise Way will always be a warm, supportive place where you can be fully present to your creative and spiritual journey, and where the unfolding story of you, can be fully heard and witnessed.
An Experiential Process
As an experiential process you'll use visual art, writing, music and movement to delve into the mythic landscapes and folklore of our ancestors, and to discover their ancient earth wisdom. These deeply held, time honored truths can be applied to your life in the here and now to activate healing and gather to yourself inner calm, beauty, wholeness and a rich sense of communion and connection to the natural world.
Private Community
A secret Facebook group only for EarthWise Way members, will provide a safe, welcoming space for you to gather with others and share conversations, art, writing, photography and life.
Easy-to-Navigate Online Space
The EarthWise Way, including all videos, downloadable materials, and recordings will be held in a private hosted online space so you have access to everything, all the time, no searching emails, or computer files, to find something you need.
Hello, I'm Jan Blencowe and I want to tell you how I become a certified Creative Depth Coach. I found this deep, transformative work during a time of grief, loss and transition. Art, image, the creative process and the rhythms and cycles of nature gave me a way to create a language for my soul. I finally found a way to voice my inner world.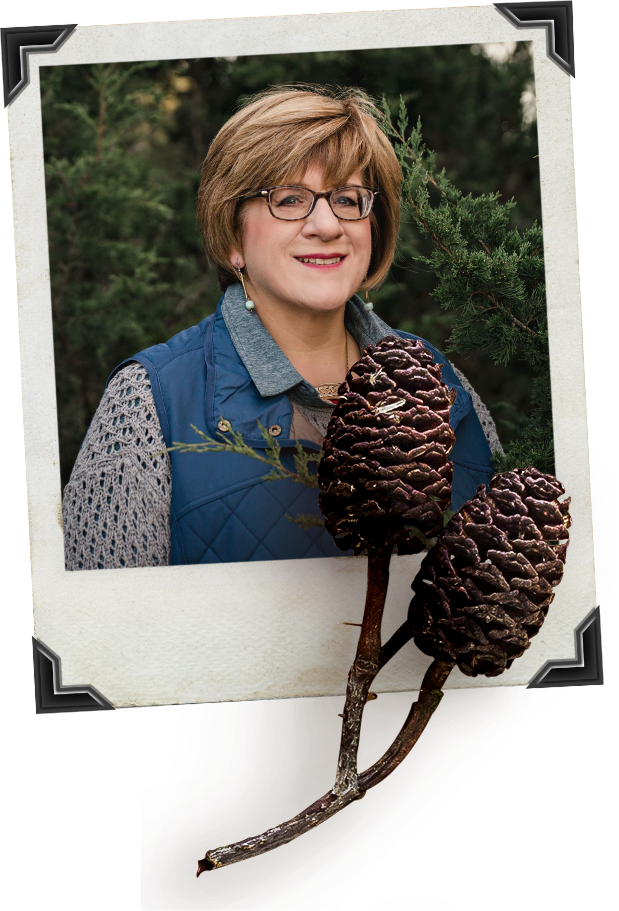 Fifty is a powerful age. I believe it is an important moment of transition and initiation in a woman's life.  If you're coming up on this milestone or have passed it already you may sense this too.
At fifty, my familiar life was beginning to unravel. The threads in the fabric of my identity were fraying at the edges, becoming fuzzy and leaving me without a clear picture of who I was.
When my mom began her decline into dementia we walked that terrifying road together through the upside down world of parent-turned child and child-turned mother. I know many of you have walked this confusing time of grief and loss too.
My personal identity was in question, my professional identity changed, and deeply held spiritual beliefs were being challenged.
Uncertainty, confusion and painful moments left me feeling depleted and overwhelmed emotionally. I had no way to process everything that was happening let alone work with it in a way that  helped me find meaning, clarity and a way forward.
That's when I found creative depth work, and I took my first mythos journey. Using mythic and symbolic language gave me a way to understand and work with everything that was going on in my inner life. 
That's why I love to call this work, soul work, because it heals you from the inside out. It gives you ways to process experiences, move energy, and express emotions at the deepest level. It helps you clear what's blocking you and allow for the free flow of healing and inner growth. 
I found this work to be so important and transformative in my life that I became a licensed JourneyCircles™ Facilitator and a Certified Creative Depth Coach through JourneyPath Institute.
Today I'm part of the teaching staff at JourneyPath institute and their JourneyCircles™ Ambassador.
The moment I found creative depth work I knew that I had found the work that would carry me forward, becoming my greatest life's work. Guiding you through this process is a great honor for me and I consider it a great privilege to offer this work to women across the globe. 
Is EarthWise Way a good fit for me?




This Group Is For You If...
You need The EarthWise Way if...
How do I know if it's not right?




This Group Isn't a Good Fit If...
You shouldn't do The EarthWise Way if...
How does The EarthWise Way guided year work?
Guided Meditations
You'll also receive a monthly, recorded, guided meditation that will lead you into the creative process with beautiful and imaginative earth based imagery. These gentle guided meditations will help you move into a relaxed right-brain creative state and enhance your ability to activate your creative flow.
Monthly Art Invitations
Monthly art invitations may include mixed media techniques, collage, book arts, art journaling, JourneyCircels™, SoulCollage®, poetry, nature journaling, herb craft, contemplative photography and embodied practices such as walking meditations, and sacred listening.
Videos & Art-Making Techniques
Each month there will be a special video demonstrating an art-making technique that will help you expand your own creative knowledge, and deepen your powers of creative self-expression.
Frequently Asked Questions