If you find your deepest peace and profound spiritual connections in nature, and you love to sketch and paint or would love to learn...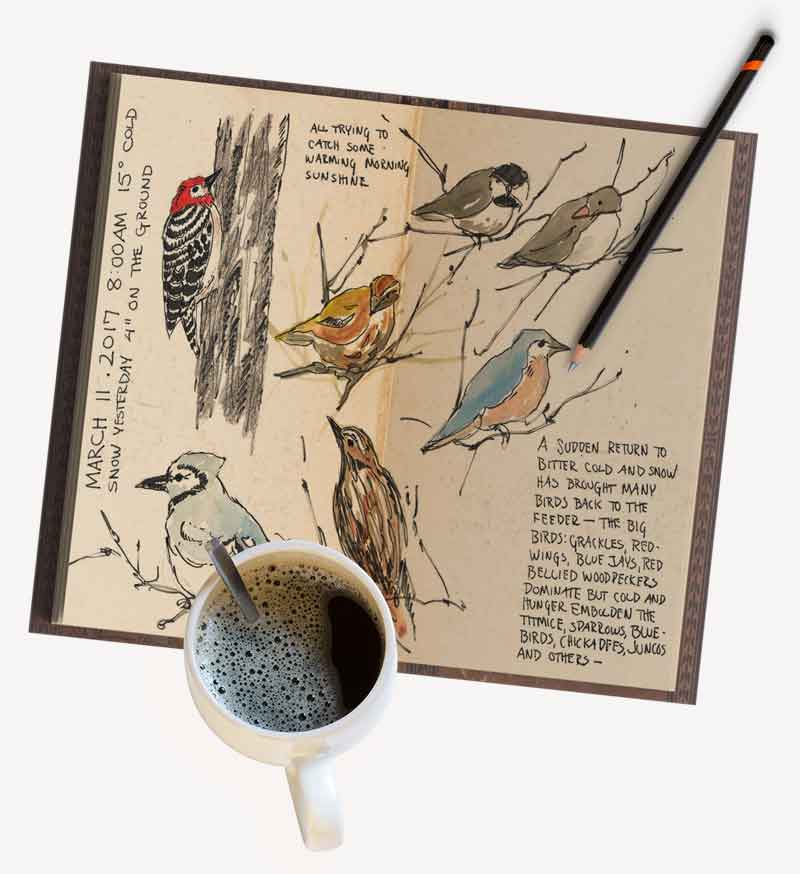 I offer online self-guided, self-paced courses that bring art, soul, and nature together.
Imagine learning ways to fine-tune your listening and observational skills so that you can deeply engage with the natural world. Then imagine that you have a repertoire of creative skills that allows you to quickly and easily sketch the beauty in nature -- beauty that takes your breath away and fills you with a sense of calm and well being. Imagine creating a beautiful illustrated book that holds all of your experiences in nature through drawings and personal journal entries. Each page laid out with lettering, backgrounds and beautiful watercolor sketches.
That would be a book that you would treasure forever.
Now imagine making that a reality. Nature journaling relies on sketching techniques that are quick, easy and simple. These types of sketches capture the essence of your subject and don't require photographic precision, or years of drawing instruction.
Anyone, at any level, even a beginner, can learn these simple sketching techniques and create a beautiful nature journal. The secrets that allow you to work quickly outdoors are easy once you know them. They will provide you with the skills to document your experiences in nature season after season, and year after year.
These courses will teach you everything you need to know to capture in sketches and words all of your beautiful and enriching experiences in nature. They will also explore how and why our connection to the natural world matters to our sense of well being and nurtures our spiritual life. If you choose this path I suggest starting with the Beginning a Nature Journal course.